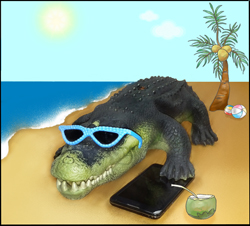 At TECHLINQ, we clearly love technology… but even WE advise you to unplug from the hectic world and leave the gadgets behind while on vacation. Unfortunately, if you're like most of us, you need to stay connected to some degree.
We've compiled a list of good technology practices and safety tips to keep in mind while traveling.
Don't bring your laptop! Try to use your smartphone or tablet instead to read emails, browse the internet, and access social media while on vacation. No need for the extra weight and risk of loss or damage. If you must bring your laptop consider the following before you leave on your trip:
• Make sure that your software updates and antivirus settings are up to date
• Back up all of your files and important documents
• Password protect your valuables with complex passwords that are hard to crack
• Encrypt important data
Create a VPN so you can securely access your home network anywhere you go (this is especially helpful when visiting countries with censorship or internet restrictions).
Avoid logging in to any public or shared computers and unsecured networks. Don't let even the swankiest hotel lobby PC fool you! Public computers can be littered with malware so avoid logging into anything that requires you to enter passwords or personal information. To stay on the safer side, see if the hotel offers a WPA¬2 protected wifi network for guests that you can access on your phone or tablet.
Make sure that your technology and gadgets are equipped with well-fitting protective gear. It helps to bring extra plastic bags to protect your gear in case of sudden downpours or unexpected moisture. There are also countless designs of waterproof cases you can also choose from if you're going to be spending a lot of time near water.
Back up your files often throughout your vacation. This will enable you to have enough room for plenty of new photos and ensures that each day's memories will be safe! Not sure how to back up your files on the go? You can use SD cards, an external hard drive, a USB thumb drive, or if you have internet access, a cloud based service such as Dropbox, OneDrive, iCloud for Apple, or Google+ Auto Backup for Android phones.
Pack a good quality power strip so you can charge all your devices at once. If you're going overseas you'll want to include a universal power adapter.
Bring a portable cell phone charger. For a lot of us, our phones double as our digital cameras. A portable charger will give you a chance to charge your phone if you don't have access to an electrical outlet.
Make use of the countless apps created to make travel easier. There are apps to keep your devices secure with alarms, help you find locations with wifi, or apps that will allow you to explore the land like a local!
Avoid roaming charges and high rates on your cell phone and use a wifi based calling system such as Skype or WhatsApp.
This one might be the most important tip of them all. Make the best of your time and memories by opening your eyes to the world around you. After all, those are the moments that add to your life and make your vacation memorable.